The Council of American Master Mariners, Inc.
Lalonde Spirit of the Seas Award
2016 Recipient Captain John A.C. Cartner, Ph.D.
The Council of American Master Mariners, Inc.
Captain John A.C. Cartner, Ph.D., #2574-RU, accepted this award from presenter Captain Pat Moloney, last year's recipient, at the Closing Dinner as part of CAMM's Annual General Meeting on April 22, 2016.
Captain John A. C. Cartner, Ph.D., graduated from the U.S. Merchant Marine Academy (1969) and obtained his unlimited U.S. Masters License. John studied for and obtained degrees as Bachelor of Science, Master of Science, Doctor of Philosophy, Master of Business Administration, Juris Doctor, and Master of Laws.
Captain Cartner has built upon his education and experience in each discipline so that he has always been ready to respond when and as needed, and has often done so without compensation for his time and efforts. His humanitarian responses have primarily been directed at defending shipmasters and other seafarers who have faced criminal charges in matters over which they had no control and were not at fault.
John is a devoted husband, father, and grandfather, John has time to devote to his service to the maritime industry and particularly to mariners. ln addition to the pleasure he gets from his heavy workload, John sails his Cape Cod catboat PENELOPE. He is a member of in the Episcopal Church.
Captain Cartner has sailed in all deck officer ratings from Deck Cadet through Master. He has also served in the United State Naval Reserve, and in maritime billets ashore, including operation of the Computer Aided Operations Research Facility (CAORF) at Kings Point instructing young mariners, founding and chairing a naval architectural and marine engineering firm that provides support to a number of military units.
He heads a Washington, D.C. law firm that he founded, and has spread his legal wings to service in other Federal Courts outside of Washington: admission to the bar of the U.S. Supreme Court, designation as a Proctor in Admiralty by the U.S. Maritime Law Association, and overseas as an English Solicitor, where he anticipates being "called to the bar" as an English Barrister later this year.
Captain Cartner's wide range of experience in seagoing endeavors has exposed him to dangerous situations involving navigating through heavy and complex weather systems, mechanical and electronic failures, failure of assisting tugs and locomotives (Panama Canal), and exceptional risk of fire and explosion. Captain Cartner's skills in seamanship, ship handling, and emergency response, has enabled him to bring his ships through these circumstances safely.
In addition to his education, shipping career and law practice, John is a prolific writer, who is regularly published in maritime trade publication, including being a regular contributor to Sidelights and is the principal author of the coveted and comprehensive reference source, The International Law of the Shipmaster< (2009). John has also shared the benefit of his expertise with many within and without the industry by means of televised speeches and interviews on topical subjects, and publications recording his speeches and interviews.
John has been honored as Chairman of the Society of Marine Consultants, elected a Fellow of the U.K. Chartered Royal institution of Naval Architects, and a Fellow of the U.K. lnstitute of Marine Engineering, Science, and Technology, in addition to having been recognized by his alma mater for his Outstanding Professional Achievement. He is a Regular Member of the Council of American Master Mariners, an Associate Fellow of the Nautical lnstitute, an Associate Member of BIMCO, and a Corresponding Fellow (Foreign) of the Academy of Forensic Engineers.
Lalonde Spirit of the Seas Award - History
The Father Maurice Lalonde Spirit of the Seas Award is the highest honor that the Council of American Master Mariners can give its members. It is named for one of our members, Captain/Father Maurice Lalonde. Father Lalonde, in his early career, graduated from the New York State Maritime Academy and served as a Naval Officer in WW II. He then went back to sea as a civilian mariner, sailing in all deck officer billets, including Master Mariner. He then came ashore and studied for the Catholic priesthood. After his ordination, he went back to sea for awhile and donated his salary to his priestly order. He again returned ashore and spent most of his remaining career as a foreign missionary. He obviously is a man of a tremendously giving nature. The recipients of this award represent this kind of overall selfless spirit.
Past recipients are:
2014 Captain Pat Moloney
2014 Captain Don Moore, Jr.
2012 Captain Tim Brown
2011 Captain Tom Bradley
2010 Commodore Kenneth Orcutt
2009 Captain Charles "Chick" Gedney
2007 Captain James Morgan
2006 Edward Frank Oliver
2005 Captain Dominick Calicchio
2004 Captain Warren Leback
1999 Father Maurice Lalonde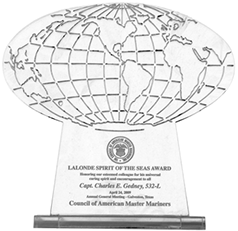 Lalonde Spirit of the Seas Award - Nominations
Nominations for the Lalonde "Spirit of the Seas" award open in September and is awarded at the National Annual General Meeting the following spring.
The Lalonde "Spirit of the Seas" Award is the Council's most distinguished honor. The award is made annually or as deemed appropriate by an Awards Committee comprised of the National's five Regional Vice Presidents and Ex-Officio National President.
Nominations are open to any member, living or deceased, for all of the following: humanitarianism, professionalism, seamanship, life-time achievement and noteworthy accomplishments, along with contributions to the maritime industry and the 'Spirit of the Seas' in their everyday lives. An eligible nominee may be a member in any category of the CAMM National organization in good standing (who is/was current in their dues to CAMM National and to their chapter, if they were also chapter members). Individuals must be nominated by a CAMM National member who also is in good standing.
For additional applications, information or guidelines and rules, contact your Regional Vice President or your Chapter President.
All nominations must be postmarked by January 15.
Lalonde Spirit of the Seas Award - Winner Notification and Acceptance
The winner will be notified in advance by the Lalonde Review Committee. If nominee is the winner, he/she must make every effort to attend the annual meeting Closing Dinner. Because of the prestigious nature of this award, the winner's Chapter should be an enabler to encourage and assist winner to be present to receive the award in person. If because of poor health, the winner can't attend please list their designee (show name & ID number) who will accept the award in their behalf.